I've been mucking around a bit with the speech recognition stuff that's been added to the <input> element in Chrome 8, and I have to wonder how discoverable this functionality is going to be for the average user.
If you add speech x-webkit-speech to your <input> tag, the resultant form looks something like this: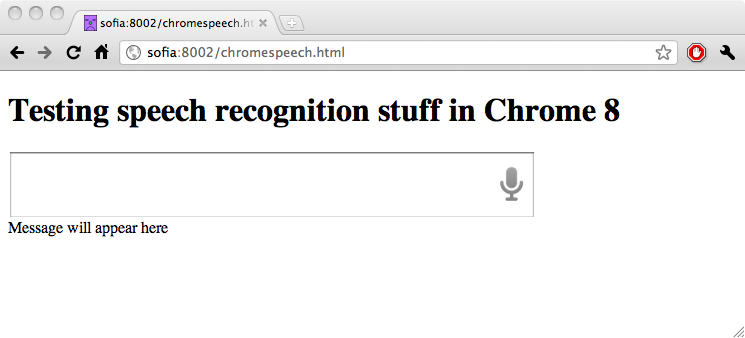 Clicking on the icon opens up a small popup prompting the user to say something, the popup also has the same icon.
Now, when I see that icon, I don't personally immediately think, "Aha, a microphone". Assuming I'm not completely abnormal, how many users are going to click on an icon they don't recognize, without some sort of external prompting text telling them what it is? (NB: this isn't a design decision specific to Chrome; my Dell netbooks also have a similar icon on their microphone jack inputs.)
As a sanity check, I've done some brief checks on Google and Bing's image searches for "microphone", and fail to find anything that looks like this icon - the top results are a mix of "bisected globe" microphones (which is what I'd consider to be the most widely known variant), and "rounded cuboid" ones, which are closer to the icon Chrome uses, but not a close resemblance in my opinion.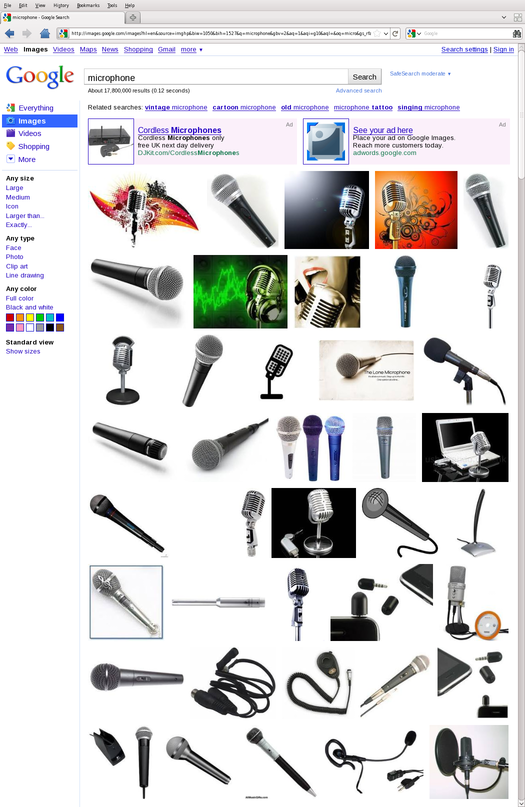 Now rather than merely whinge as usual I've tried to be constructive for once, so here's my crude attempt at an icon that looks more like what I'd expect. As I'm not a graphic designer or UI expert, I'm sure something much better could be done - it doesn't scale down to 16x16 very well for starters - but hopefully it's better than nothing. The first file below is the original SVG, so anyone could tweak it in InkScape or similar apps; licence is WTFPL.



UPDATE: I've just found that there's a Unicode microphone glyph, which looks to use the "bisected globe" type. However, I haven't found a machine/font yet which contains this glyph, and the sample image contains musical notes, which are a bit out-of-context for speech recognition text inputs.